Dried flower buds of the legume Sophora joponica L
[English name]: Quercetin
【Plant origin】: Dried flower buds of the legume Sophora joponica L
【Product specifications】:95%
[Detection method]: HPLC
【CAS】:117-39-5
【Molecular Formula】: C15H10O7
【Molecular weight】: 302.24
【Structural Formula】: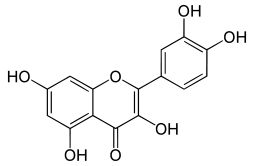 2. Technical indicators
1. Appearance: yellow powder;
2. Total ash ≤5%, acid insoluble ash ≤2.0%;
3. Loss on drying ≤ 5.0%;
4. Heavy metals≤ 10ppm (Pb≤2ppm, Hg≤1ppm, Cd≤0.5ppm, As≤2ppm);
5. Microorganisms (non-irradiation): total colony number≤ 5000CFU/g; Mold and yeast≤ 500CFU/g;
Salmonella: Negative; E. coli: Negative.
3. Packaging and storage
[Product packaging]: double-layer plastic bag inside, aluminum foil bag or cardboard drum outside
【Packing specifications】: 10Kg/barrel, 25Kg/barrel
[Storage conditions]: Place in a cool, dry, dark, and high temperature place
[Shelf life]: two years
Mobile website
Xi'an Sanjiang Bio-Engineering Co., Ltd.
---
SAF Coolest v1.3 设置面板
VUASX-ZUSJ-IXSWE-ZFW
图片ALT信息: Xi'an Sanjiang Bio-Engineering Co., Ltd.
违禁词: First, best, first-class, leading, unique, king, leader, leader, extreme,
无数据提示
Sorry, the current column has no content for the time being.!
You can view other columns or returnHome Page
SVG图标库
请自行添加图标,用div包起来,并命名使用